Latest News
Last week for "Beauty & The Beast"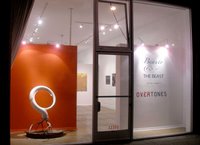 Before Summer 2008--and climbing gas prices--slow down LaLaLand, we hope you'll take this last opportunity to see "Beauty & The Beast":a group exhibition which celebrates 5 years of OVERTONES and showcases 14 artists: CRAIG BUTLER, CHRISTOPHER CHINN, SUE COE, ROBBIE CONAL, VICTOR GASTELUM, SIMONE LOURENCO, CLAYTON MURDACH, STAS ORLOVSKI, AMY ROSS, MARGI SCHARFF, CAROLE SILVERSTEIN, NANCY SPERO and ALEXIS WEIDIG.
The last day to see "Beauty & The Beast" is Saturday, August 2nd, from 12-6pm, and for some of the pieces in the show, it truly is the very last opportunity to see them in Los Angeles.
OVERTONES will be on summer hiatus for the rest of August though we will be available by appointment: you are always welcome to give us a buzz and swing by on your way to the beach!

We will resume full speed ahead in September with a solo exhibition by one of our favorites, VICTOR GASTELUM, so stay tuned for updates coming your way early in September and save Saturday, September 20th on your calendars for Victor's opening party.

Happy Summer & see you at the gallery!
July 28, 2008