Latest News
MAY 22nd: HAPPY BIRTHDAY HARVEY MILK!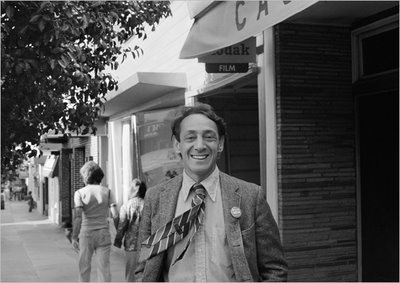 Today would have been Harvey Milk's 79th B-day and Equality California is working hard to pass legislation that would have this day acknowledged and celebrated as "Harvey Milk Day". Visit their website to add your voice in support of Senator Leno's Harvey Milk Day bill.

We are proud that we can honor Harvey Milk's legacy with an amazing exhibition of photographs by DANIEL NICOLETTA, on view at OVERTONES through June 20th. This is an important time for equality in California: the Supreme Court has announced that it will rule on the fate of Prop 8 this coming Tuesday, May 26th, at 10am.
"Harvey Milk and the San Francisco Scene", a solo exhibition of DANIEL NICOLETTA's photographs, is a wonderful way to get inspired in the continued effort to stand up to prejudice and bigotry and we hope you will make the time to stop by OVERTONES while Nicoletta's exhibition is on view.
To read about DANIEL NICOLETTA's exhibit visit the following links:
THE Magazine
SoCal
FineArtsLA
To attend DANIEL NICOLETTA's artist talk and book signing at OVERTONES on SUNDAY, JUNE 7th, from 2-4pm, please RSVP to the gallery by June 3rd.
May 22, 2009