Latest News
"REALITY CHECK" opening SATURDAY, NOVEMBER 1st; 7-10pm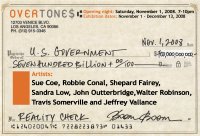 Join us this Saturday, November 1st, from 7-10pm for the opening of our group exhibition "Reality Check". Developed as a response to the current political situation, "Reality Check" presents works by some of the most prolific political artists in America today: SUE COE, ROBBIE CONAL, SHEPARD FAIREY, SANDRA LOW, JOHN OUTTERBRIDGE, WALTER ROBINSON, TRAVIS SOMERVILLE and JEFFREY VALLANCE.
We hope you will join us in celebrating the artists in this exhibition, whose work continues to challenge and provoke. In these times when it feels like the whole world is standing on a precipice, the artists in "Reality Check" provide a bigger picture and an encouragement to take a leap.

See you at the opening!
October 26, 2008