Latest News
WHAT WOULD DIVINE DO?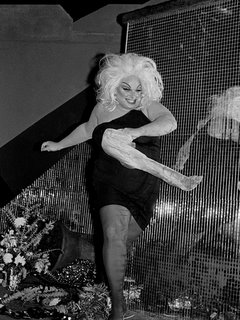 While we are disappointed and angry that the unjust Prop 8 was upheld by the California Superior Court, we are certain that Divine would keep on singing until equal rights are afforded to all. And we are also certain that Harvey Milk would remind us of the importance of HOPE and the need to keep on fighting.
In honor of the spirit of these two incredible and inspiring human beings, we invite you to come by OVERTONES gallery and see DANIEL NICOLETTA's exhibit "Harvey Milk and the San Francisco Scene"--a couple of exceptional opportunities to make it more than just a gallery visit are coming up:
In synch with the Culver City Art Walk on SATURDAY, May 30th, OVERTONES gallery will be open from 12-8pm. While we are not quite on the walking path of Culver City we do hope you'll take advantage of the extended hours.
For those who would like to meet the artist and hear more about his work and life, on SUNDAY, JUNE 7th, from 2-4pm, DANIEL NICOLETTA will be at the gallery for an artist talk and a signing of copies of the recently published book "Milk: A Pictorial History of Harvey Milk". RSVP to the gallery is politely requested for this event as seating is limited: please email us or call 310.915.0346 by June 3rd.

May 28, 2009
MAY 22nd: HAPPY BIRTHDAY HARVEY MILK!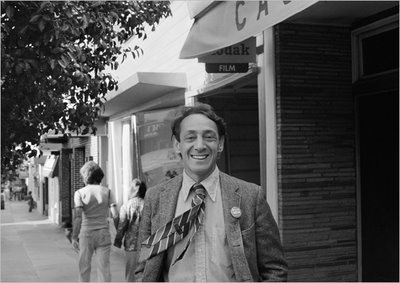 Today would have been Harvey Milk's 79th B-day and Equality California is working hard to pass legislation that would have this day acknowledged and celebrated as "Harvey Milk Day". Visit their website to add your voice in support of Senator Leno's Harvey Milk Day bill.

We are proud that we can honor Harvey Milk's legacy with an amazing exhibition of photographs by DANIEL NICOLETTA, on view at OVERTONES through June 20th. This is an important time for equality in California: the Supreme Court has announced that it will rule on the fate of Prop 8 this coming Tuesday, May 26th, at 10am.
"Harvey Milk and the San Francisco Scene", a solo exhibition of DANIEL NICOLETTA's photographs, is a wonderful way to get inspired in the continued effort to stand up to prejudice and bigotry and we hope you will make the time to stop by OVERTONES while Nicoletta's exhibition is on view.
To read about DANIEL NICOLETTA's exhibit visit the following links:
THE Magazine
SoCal
FineArtsLA
To attend DANIEL NICOLETTA's artist talk and book signing at OVERTONES on SUNDAY, JUNE 7th, from 2-4pm, please RSVP to the gallery by June 3rd.
May 22, 2009